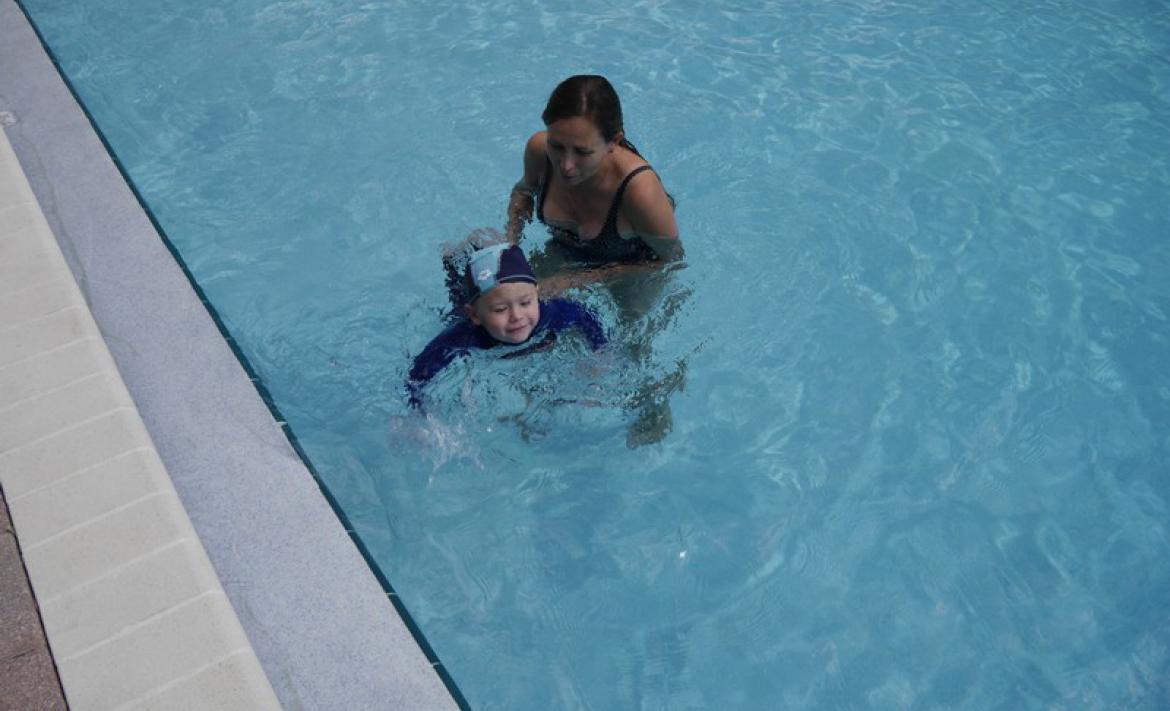 As practice shows it is best to start swimming with your child as early as 2 weeks old. Basically, when the umbilical cord stump falls off, you are good to start.
The reason is that you need to start diving with your baby before she turns 2 months to keep the reflex of holding breath. It is an inborn reflex all infants have. After 2 months old it starts to fade and it is almost impossible to get it back. Then you will need to teach your baby hold her breath again. 
Why should I consider swimming for my infant?
Swimming is a great way of bonding between mother and a baby. It also makes us go out to the pool and fight postpartum depression if any. You, as a mom, can also lose some weight while having fun with your child. Most importantly, you will promote a healthy lifestyle for your infant from the very beginning. A lot of bonuses! 
Also, while swimming you are teaching your infant basic commands, some discipline - a great way to develop their attention and understanding skills. It is prooved that infants are very good learners if we are clear with our commands and instructions. They learn to trust you in a water and in life.
How do I start swimming with my child?
Do it in a bathtub, every day or every other day. 5 minutes for a swimming class and you are done. Do one dive at the end. 
Your swimming class will include:
- swimming on baby's back. Her ears should be in water. Hold baby's head only and move her head first one under her chin, one on the head's back). Do 8-like circles.
- swimming on baby's belly. Hold baby's head only (one under her chin, one on the head's back). Do 8-like circles.
- then say "Attention [baby's name], diving" and pour some water on baby's head. If all went good, next time dive the baby. 
Note: this can be done only if the baby is holding her breath already. To check, try to blow into baby's face and see if she closes her eyes. If yes, you are good to go. 
Keep doing that for a while until your baby is comfortable. Then you can start doing other exercises to make your experience more fun. 
What's next?
You can go to a real pool to swim or keep swimming in a bathtub until your baby can reach the bottom of the tub. Then you have to go to the pool. 
Note: no floating devices are allowed. 
Then you can get a professional swimming instructor or continue teaching your child yourself. Both ways will do great. The trick is that noone takes infants into group swim classes. I mean those that will teach them anything. Most of the classes are 30 minutes long and all you do is moving baby's legs and hands in a water... useless. For you anyways, because your baby will be able to dive and move her legs and hands in a water by herself by the age of 3-4 months old.
Alongside your baby's physical development you will see her mental development too: picking up small objects, making specific sounds, understanding commands, learning colors, parts of a body, left-right directions, gravity and patience. So swimming is well worth doing. I would say it is the best gift you can give to your baby in her infancy!